"Above all else, guard your heart, for it is the wellspring of life".

Proverbs 4:23

Wellspring is committed to helping you have the best 2018 you can have.
We are introducing for the first time our 2018 Wellspring Living ABundantly
Seminars (LABS).
Failed New Year's Resolutions? This seminar is for anyone who wants to make real and
lasting lifestyle change by learning the science of habits and the art of applying this
knowledge to healthy choices for the body, mind, and spirit. Wellspring therapists and
special guests will hold sessions and activities to inspire participants to move beyond
failed New Year's resolutions to new seasons of abundant personal growth.
To learn more and register, click here.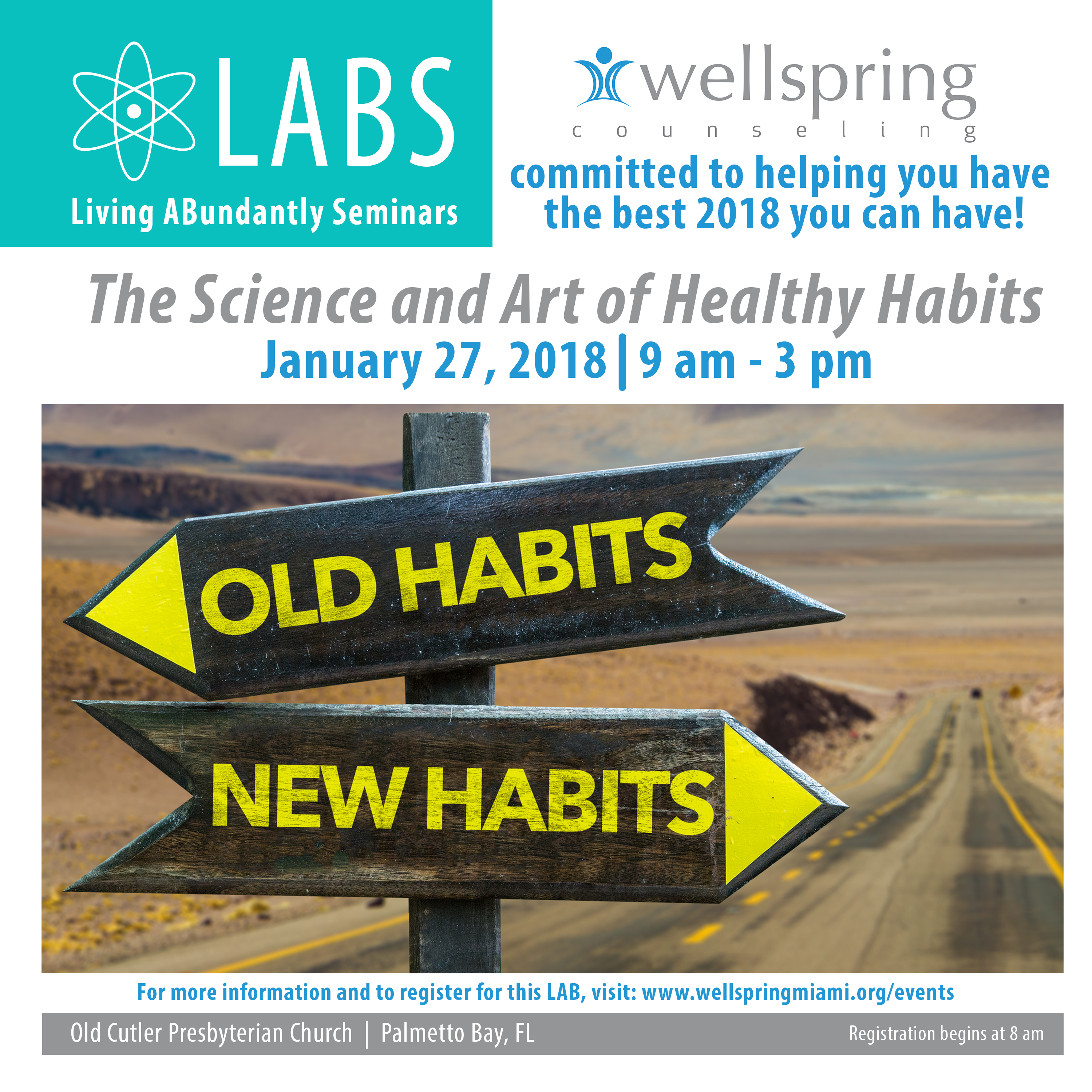 Join us every Saturday mornings at 11:30 a.m. on Life FM 90.9 to hear professional
counselors share practical life and Bible insights that will encourage your heart and mind
as applied to daily living followed by a talk-show style Q&A regarding he topic of the day.
To listen to our past shows, click here.

We'd love your feedback! E-mail us at ontheair@wellspringmiami.org.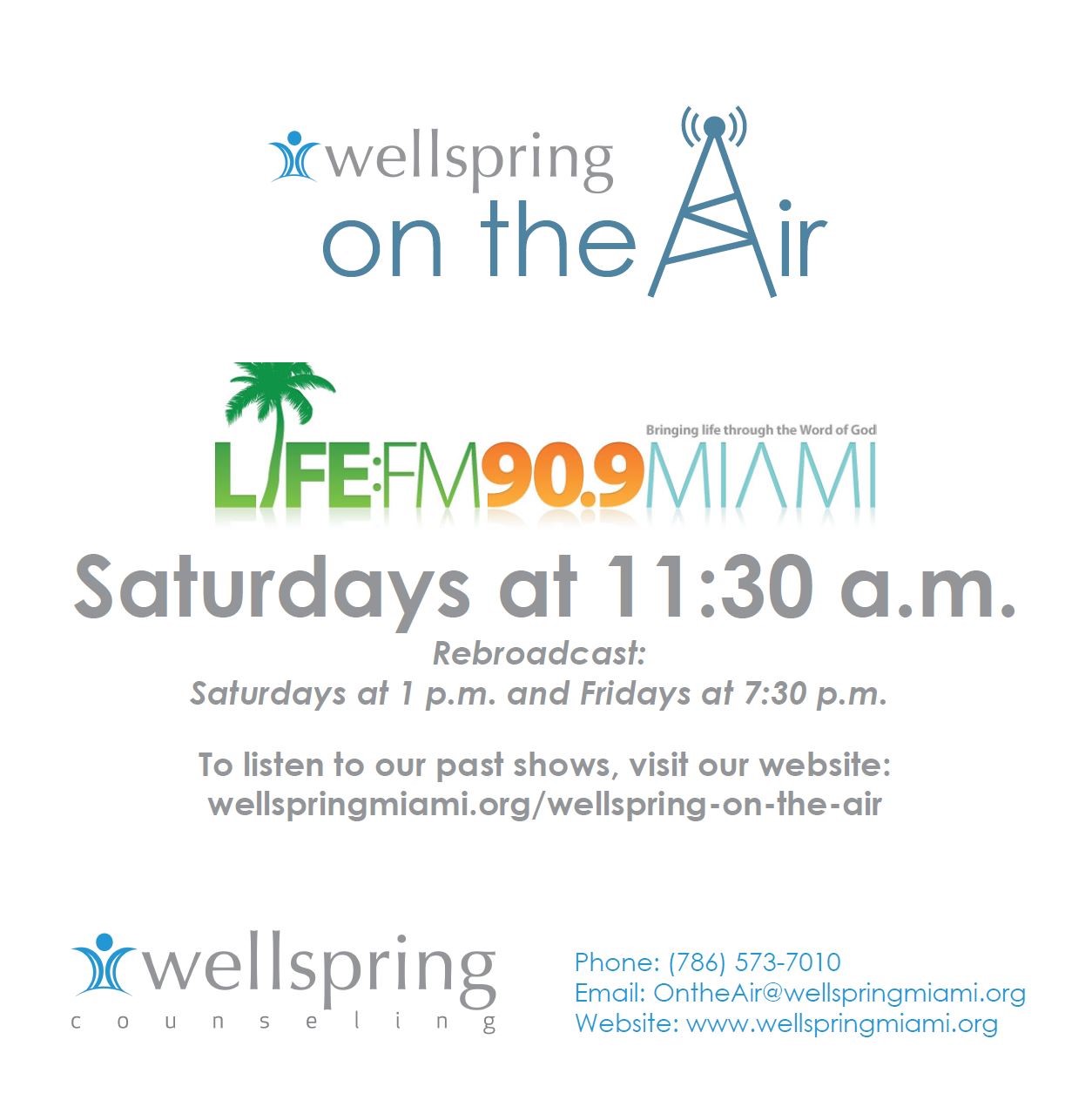 If you need emotional support, give us a call!
Wellspring therapists are available from 9 am- 1 pm on weekdays to take calls from those in our community who need emotional support after Irma. These consultations are free and confidential. Please call us at 786-573-7010 to speak with one of our therapists. If you prefer to email you questions, you may do so by sending us an email to info@wellspringmiami.org.
Our offices in Homestead, Palmetto Bay, Kendall, and Coral Gables are fully operational and appointments are available by phone or email. Please call our main office at 786-573-7010 or email us at info@wellspringmiami.org. We hope to continue to serve you and your family during this difficult time.
Please note that Wellspring is not an on-call emergency mental health provider. In the event of an emergency, dial 911 to request ambulance, fire, or police response.
Help Us Help Them!
Wellspring is reaching out to meet the emotional needs of those recently affected by Hurricanes Irma and Harvey. Help us help them!
As Florida and Texas overcome the damages from Hurricane Irma and Harvey and focus on shelter, food, utilities and resuming normal life and work, an emotional toll is also being paid during this stressful process. Full recovery includes emotional as well as the physical issues, namely overcoming fears, stress and strained family relationships that may have erupted during this process. Wellspring believes that the most effective way for our center to help those affected in our community in the name of Christ is to provide trauma-specific services as soon as possible to as many as possible.
You can help by supporting our Trauma Recovery Program Fund, which includes the following initiatives:
Hurricane Recovery Outreach in Disaster Communities
Your generous gift will help Wellspring partner with other organizations to provide relief services, specialized acute therapeutic support services on sites for areas severely affected by the hurricane. Every $300 raised will provide one more therapist and resources for a full day of individual and group crisis emotional support for those affected by Hurricane Irma. We would like to extend our services in Dade and Monroe counties. If we have excess funds, we may also travel to the East Coast of Florida, to Houston or to Puerto Rico to offer our specialized services.
Individual Emotional Support Consultation
Your gift will support Wellspring's goal to offer 150 hours of individual emotional consultation by professional therapists to stabilize distressed individuals. The focus of these conversations would be to debrief recent stressful events, provide overall psychological triage, and to provide educational and referral resources to aid in emotional recovery.
Financial Aid for Individuals for PTSD
Wellspring is committed to providing financial aid to those suffering from disabling levels of post-traumatic stress disorder in order to hasten the restoration of functional living. No one will be turned away for lack of funds.

Our Mission
Wellspring is a non-profit counseling center and outreach ministry that provides mental health services and education in a professional, Christian and holistic way in order to bring about transforming change in individuals, communities and for generations to come.
Our Vision
Counseling:
Provide full-service counseling by professional, licensed, skilled counselors to the greater Miami community and beyond.
Education:
Provide training and education in the realms of counseling and mental health to therapy groups, churches, schools, community gatherings, conferences or retreats, and to counselors in training.
Trauma Expertise:
Provide specialized trauma counseling, to train others regarding trauma, and to encourage others to use skilled trauma techniques in the emotional healing process. We believe that the healing of negative and traumatic life experiences through skilled trauma work is foundational to the goals of our mission statement.
Counseling Availability:
As funds are available, to provide greater access to counseling through a Scholarship Fund to reduce counseling fees for clients in need.
Support for Ministry and Christian Workers:
Provide counseling and training to full-time Christian workers at the Wellspring Counseling offices and on location in their places of service.
Outreach Programs:
As funds are available, to provide outreach counseling and education programs.
Our Expertise
Our areas of clinical focus include, but are not limited to:
Marriage & Family
Premarital
Parenting
Children & Adolescents
Relationships
Divorce
Ministry to Ministers
Trauma
Grief & Loss
Abuse
Addictions
Anxiety
Depression
Communication
Conflict Resolution
Wellness
Men's Issues
Faith & Spirituality
Make an appointment today or give us a call if you have any questions.